There has been much talk in the last few weeks — with the collapse of Lehman, Fannie May and Freddie Mac, and now AIG — of an impending economic crisis that could potentially match the scale of 1929s total market crash. John McCain, of course, thinks that the structure of our economy is strong, that if we cut the wealthy capitalist fat cats running our "free market" economy some tax breaks, that we will recover as the saved money (say it with me) trickles down to the everyday American. Two GLARING issues with that position:
1. Free market institutions can't be held accountable for their actions and speculative risk… even in their total failure. The market must be free!  The failures of giant financial corporations is clearly a result of elements beyond their control!  Therefore the government must ensure the survival of these short sighted, bloated, and broken corporations so that they can regain the trust of the American people… trust that pads the pockets of the rich — AIG's CEO is getting an 8 million dollar severance package to reward him for his outstanding leadership — and watches the earnings of the rest of us trickle down the gas tank.
2. The goal of free market capitalism is to generate more profit. If you are the owner of a private, deregulated corporation, and the government cuts your tax burden, are you going to pay your employees more (which counters the very foundation of traditional desires for "low overhead" in market capitalism), or call it a successful quarter and pocket your additional profit?  Perhaps you will use the extra capital to invest in new assets, but in the financial world, seldom if ever, is the labor force recognized as an asset.
What we need to do is admit that present day American free market capitalism is systemically broken.
We need to dream it all up again. I'm not suggesting that substituting another contemporary system, like socialism for example, is the answer. But there clearly needs to be a New Deal approach to turning the country around. We need bold, progressive leadership that is unafraid to be strong in the face of blind tradition and habit. We need someone willing to tread new ground; to stand up and own up to the sad realities of deregulated free market ideology, and begin writing the next chapter in the history of the great ingenuity, leadership, and resolve of American democracy. It's time to turn the page.
Some additional reading on the subject: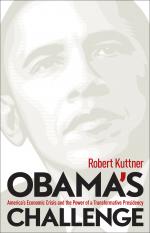 "The Fruit of Hypocrisy" – Joseph Stiglitz
"Obama's Challenge" – Robert Kuttner

Kuttner discusses his book on Tom Ashbrook's "On Point" NPR radio program. An audio link will be available after 3pm on Sept. 17.